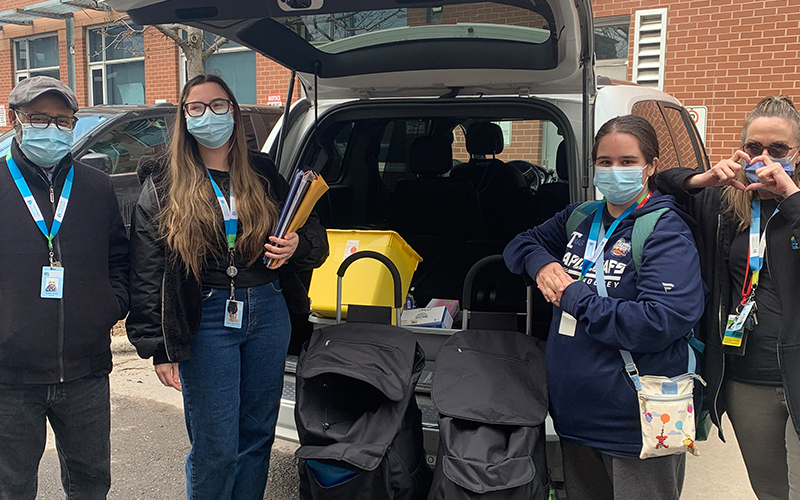 In the spring of 2022, SRCHC's Indigenous Health Promoter and the COUNTERfit Women's Health Promoter brought together a group of Indigenous women who use drugs for an 8-week program to create their own regalia (the traditional clothing and accessories worn by Indigenous people at dances and cultural events) and dance in a Circle on the lawn next to the health centre.  The harm reduction philosophy of this unique program was articulated by Elder Wanda Whitebird, who provided guidance to the project: "Harm reduction is not about drugs … it's about unconditional love and about being there on your own terms." This program is featured in Northern Features: love, culture, harm reduction, a documentary which has been submitted to a number of film festivals across Canada. Over the past year, other harm reduction programs at SRCHC were expanded or created that reflect the same spirit of love and self-determination that ran through the regalia project.
In 2022, our safer supply program, which provides prescribed medications as a safer alternative to the toxic illegal drug supply to people who are at high risk of overdose, began offering group-based programming to support clients navigating grief, and to provide a place for creative self-expression and social support. Because non-fatal overdoses can be painful and frightening, Consumption and Treatment Service staff developed a trauma-informed overdose response program and have trained dozens of other health and social service providers across the city and beyond.
People are so quick to not accept people who are on the street, or street-involved people. They separate us into those that use and those that don't use. It's so unfair. I don't even like the word harm reduction and the reason is, there has got to be a better way to say it. Because as soon as you say it, everybody thinks drugs and it's not about drugs. I just want to show her a little love, that she deserved love from our community. That's what this regalia-making and bringing the women back to the folds on their own terms. It's a way in which we show unconditional love and those women paid us back with unconditional respect.
Responding to a shortage of harm reduction workers due to burn out and the challenges of these jobs, SRCHC launched a 16-week harm reduction worker training and apprenticeship program last fall to provide people with lived experience of drug use with comprehensive and supportive training so that they can find and succeed at work within the field. In addition to creating cohorts of well-trained harm reduction workers, it has also become a space of community care and collective kindness.  In 2022, SRCHC continued to build on and expand our mobile and outreach work to provide harm reduction services and health care throughout east Toronto.  The East Toronto Outreach Program, Mobile Safer Supply Team, and the Hep C Program have all strengthened and developed new outreach partnerships to be able to remove barriers and provide accessible and client-centred care in areas of high and unmet need.  Staff have also participated in efforts to create kinder systems for people who use drugs through work on the City of Toronto's drug decriminalization exemption application and on provincial Hep C elimination recommendations.
For SRCHC, harm reduction is part of a broader movement for social justice, one that is built on a respect for the rights and expertise of people who use drugs.  All of the above programs have staff who are people with lived or living experience of drug use and who support clients to become harm reduction workers. Many of the staff who now work in harm reduction at SRCHC were once clients.
As we approach the 35th anniversary of our once-small program, we can stay hopeful in remembering that despite everything, community care, the fight for kindness and love are at the root of harm reduction and will continue.